4 or 5 days in EPIRUS PALACE 5 * Deluxe in Ioannina with your own private means

with SMART ALL INCLUSIVE facilities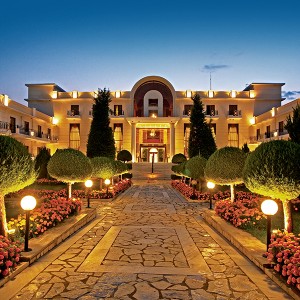 Hotel Epirus Palace 5* Deluxe
Ioannina, Greece
Experience the magic of Epirus, enjoy unique images Pamvotis Lake, feel the experience of staying in a luxury Epirus Palace at the entrance of the city of Ioannina. Known as one of the most stylish and elegant five-star hotels in Greece, he has won a distinction award for the excellent quality of service and unique atmosphere. Through passion, integrity and customer focus with a warm and friendly team provides
true Greek hospitality. A total of 200 rooms and suites offer a combination of unparalleled luxury and comfort levels reflected through the decoration and furnishing combined with elegant objects and marble baths. The restaurants attract visitors with their excellent cuisine and the brasserie and wine bar "Le Bistro", is an outstanding point of socialization. The city of silversmiths and letters is
ideal "base" to discover the monuments and natural beauties of the region. And if you want sea, you in less than an hour you to the beautiful beaches of Thesprotia.
ACCOMMODATION: The special architecture building, with huge green garden has 200 well appointed rooms with all amenities and latest technology. They are all equipped with air conditioning, mini -mpar, satellite TV and a marble bathroom.
FACILITIES: Swim, enjoy, enjoy and get lost in the world of absolute luxury.
Cared gardens, natural breeze and the pinnacle of pleasure, a huge swimming pool for you and your children.
The element that prevails in public spaces are the Murano chandeliers and handmade furniture and curved surfaces covered with gold leaves.

Taste: Taste the experience of the unique creations of the restaurant chef in a place that will have the care and attention they deserve.
Trust us your stay and discover the true meaning of hospitality!
Price from 144€ per person with your own private means (Without transport / excursions) with

SMART ALL INCLUSIVE