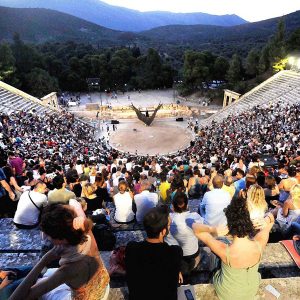 Excursion to the ancient theater of Epidavros to enjoy the best summer performances
We chose five (7) wonderful performances for which we secured tickets. We chose coaches and escorts suitable for the "closing" of the evening one of the best restaurants in the area for a light dinner before our return to Athens.
Schedule (1 days)
Departure at 16:30 from Syntagma, via Isthmus of Corinth. We cross the Baths of Heaven, the green Corfu and we reach Epidaurus and the Ancient Theater. Watch the show and then light dinner at a selected restaurant in Ligourio. We return to Athens.
Departures:
Sat 1 July • Seven on Thebes of Aeschylus
Of the great successes of last year's program, the program of Epidaurus 2017 opens
National Theater, National Theater, directed by the internationally renowned Lithuanian director Cesaris Grausinis.
Sat 8 July • Oedipus on Kolono of Sophocles
The last tragedy of Sophocles, directed by Stavros Tsakiris. Oedipus: Kostas Kazakos.
"The ends of the soul will not go forward, as long as the road brings you" Heraclitus.
Sat 22 July • Aristophanes Peace
A musical performance composed by Nikos Kypourgos based on the Peace of Aristophanes.
National Theater, with the participation of Camerata – Orchestra of Friends of Music under the direction of Giorgos Petros.
Sat 29 July • Alice of Euripides
The National Theater approaches the first of Euripides' surviving works, one of his most interesting and provocative, with the coexistence of tragic and many comic elements.
Sat 5 August • Medieval Euripides
Marianna Kalbari – Karolou Koun Art Theater – Ioannina Municipal Theater
"There is no anger more terrible and incurable than that which is born among people who have been loved."
Sat 12 August • Aeschylus Persian
For the first time in Epidaurus, in a production of THOC with a host of great Greek and Cypriot actors
Sat 19 August • End of Feast
The Epidaurus Festival honors Moria's music-dancing tradition.
There are 2 Greek Lyceums and 7 more Associations, Folkloric Halls & Dancing Clubs.
Payment policy: Cost per person
Transport by air-conditioned coach
Top Tour Ticket
Light dinner (3 dishes with choice in the main) in a restaurant in Lygourio
Escort of our office
VAT