Arachova – Galaxidi – Itea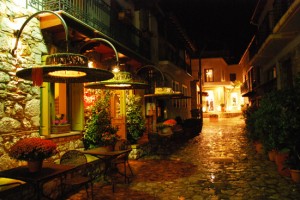 Overview
Galaxidi, built on the banks of the homonymous bay, occupies the site of the ancient Oianthi, city of Ozolon or Esperies Lokron. The picturesque town with its old houses flourished in the 19th century thanks to its sailing ships. Since 1878 has been characterized as a traditional settlement as it keeps the atmosphere of the past intact.
The restored mansions, majestic churches of St. Nicholas and St. Paraskevi, Coast Oianthi, the hill of the School of Tourism, the Old School and Themistocles Café are just a few points that cause visitors' interest, undiminished in every season.
Itea is a modern seaside town with intense tourist traffic and a major port of the area. Built on the edge of the extensive olive grove that starts Amfissa, owes its name to the many willow trees that once grew here. The picturesque wooded squares and "Coast Poseidon" esplanade overlooking the Corinthian Gulf and the Peloponnese leave the best impression to the visitor.
Departures Sunday 21/09/2014 and Sunday 12/10/2014: 50€ per person in double room and 50€ in single.
Notes: All above Euro rates are per person, include VAT and are valid only for the indicated departure date. We, nevertheless, suggest you to confirm rates upon booking.
Tour includes:
Air fare (economy class): One meal
Transport: luxurious coach bus
Representative / Guide